Site Diary
How does Site Diary Work ?
And what are its features ?
Site Diary has easy-to-use and powerful features on desktop and mobile that gives you the big picture of your construction site with a quick glance.
Create a detailed and precise history of your construction projects 
Record or monitor your construction site events on your desktop or mobile
Receive and oversee accurate data of your construction site on your desktop
Grab the mobile version and record construction site data
on the go
All data is synchronised in real-time
All data can be updated, edited or annotated from the desktop
You can use site diary both in online and offline environments and your data will instantly synchronize when you go online
Collect a variety of accurate data points to record events daily, for example :
Work executed and work summaries
Shift activities, shift start and end time
Productivity rate or production rate
Location, layout, floors, sections, etc.
Weather and rainfall
Summary of incidents, decisions & changes
Summary of safety, environment and quality issues
Safety protocols, general progress, and other comments
Engineer, supervisor or any team member name
Information regarding labour, plant, equipment, materials and expenses
Create entries easily and quickly with auto-complete features
Fill out diary entries in a snap with prefilled forms and save time
Use prefilled data according to location and context
Automatically add weather or rainfall information
Input prefilled information regarding manpower, equipment, materials, contractors, etc.
Configure prefilled data in advance
The desktop version helps you keep an eye on the construction site
and the mobile version records the whole story from the field !
Export reports for meetings to make good business decisions
Export nice, clean, and crisp reports in different formats (PDF, Excel and CSV), including photos
Extract reports in three different types :
Event report – a PDF of all the events / entries created
Daily Summary report – a summary of all events you recorded for a particular day
Weekly summary report – A summary of all the vents you recorded for a particular week

Customise reports according to selected filters such as entry date range, contractors and location
Show construction site progress with detailed photo documentation
Take and add construction photos on the go
Mark them, tag them and add descriptions to highlight critical details
Upload photos that are file-stamped and date-stamped
Keep clients in the loop by sending automated emails of daily reports that include pictures to show construction progress
Retrieve photos easily with all metadata and meta descriptions from the photo gallery
Sync Site Diary flawlessly with other Site Productivity apps
Receive real-time updates on Site Diary from Site Task, Site Check and Site Snag
Follow up on task execution on Site Diary while other colleagues are using Site Task
Monitor inspection activities on Site Diary when your colleague is inspecting and auditing the site with Site Check
Get defect alerts and corrections updates on Site Diary when someone is compiling and correcting defects using Site Snag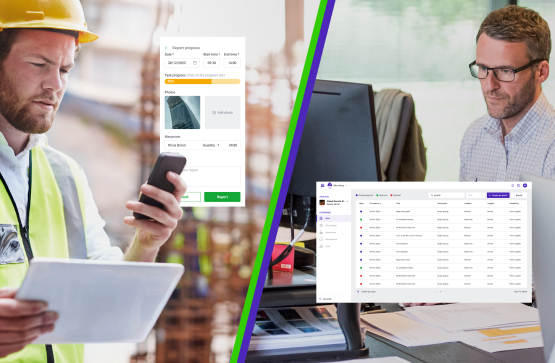 Use Site Diary to provide and receive an accurate record of events of your construction site