A mobile digital site diary application clearly benefits construction management staff who require tight quality control of contractors' work. Khaldon Evans, Script&Go's International Marketing Manager for Site Diary, approached Christopher Pletcher to answer a few questions on our use of the site diary app at Ayres Associates. Highlights from this conversation are reported here.
Christopher explained to Khaldon that he is a Municipal Engineering Manager and oversees ten civil engineers providing office-based design services, field-based data collection and construction management services. He has successfully used the Site Diary app powered by Script&Go for various projects including, Boxelder $8M Stormwater Authority Flood Control Facility and Loveland Airport Outfall in Colorado.
Christopher said that Ayres Associates needed a digital site diary as, "we had a large construction project with two dedicated field staff and I needed a way to stay current (up to the hour) with what the field staff were seeing and with correction notices that were being given to the contractor. Our previous system was independent paper field books and manually associated pictures – very time consuming to compile and certainly not real-time."
Three reasons Christopher gave for Ayres Associates choosing Site Diary were:
Firstly, "we wanted a system that was more aligned with 3rd party review. In that regard, it "was more focused on what we needed."
Secondly, it gave us "the ability to tie photos directly to observations, either by taking a picture directly in the app, or by associated pictures from a gallery, was a key function that we needed and it saved us a lot of time that used to go towards downloading photos from a camera and relabelling them."
Thirdly, the "integration of the weather and later on the GPS location helped replicate manual entry fields in our previous paper book system."
Christopher recognises Site Diary's cloud-based real-time reporting, observation-report photo association and report-exporting features and its other multiple benefits.
He said "Site Diary allowed me to keep track of construction progress and emerging issues in real time," and he could provide informed manager-level support for field staff based on the detailed reports of field staff "avoiding the need to personally tour the site" to answer construction team questions.
He explained his staff had a staggered schedule and "Site Diary allowed staff to review other staff's reports, either from the alternate schedule or from a different portion of the site at the same time" and it "allowed us to explicitly track the approval of field reports." This provided quality control process documentation for State Engineer approval on completion.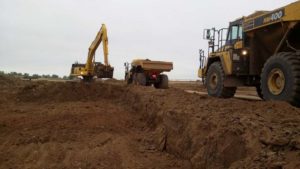 Then he concluded that "we were able to provide much tighter and comprehensive quality control observation of the contractor than we would have using paper book methods. This provided faster resolution to RFI's and Pay Applications and provided the owner with greater confidence that we were providing adequate construction management effort."
Christopher revealed it's changing the way Ayres Associates works, as it's "transitioning our entire team to using Site Diary for all construction projects so that our documentation is consistent and reviewable by backup field staff or office management, and the post-project archives are very easy to manage and create documentation packages."
The application can be installed on a Windows PC and used on multi-OS devices, tablets or smartphones, by construction management staff, in the office or field as needed.
Further details of Site Diary and the opportunity to trial it for yourself are available from Script&Go.